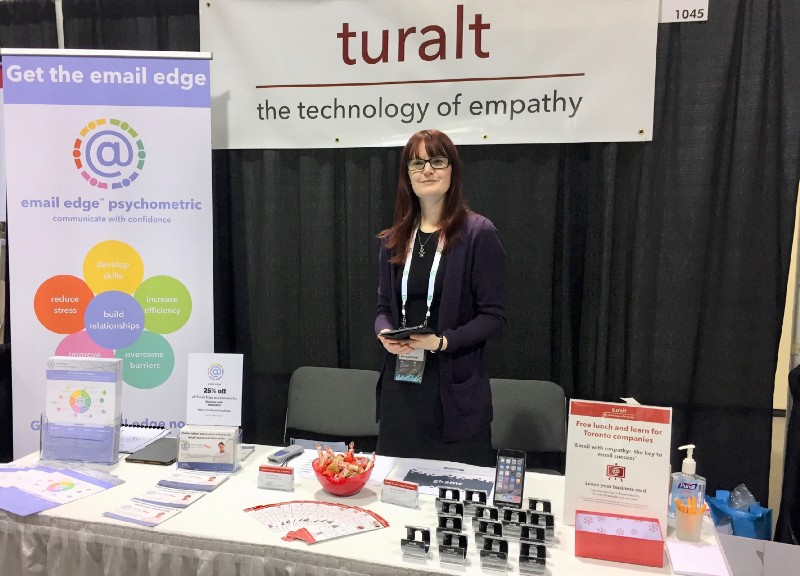 Trade shows are just for big companies aren't they?
Nope. Trade shows can be immensely valuable for early stage startups and small businesses. Your customers are all there in one place, with the right mindset, eagerly looking for solutions and willing to talk.
They are ideal places to chat with customers about your ideas and gain real world customer validation and feedback. You can demo your prototype and get feedback from interested customers. You can sign up hundreds of interested customers to your mailing lists.
Try doing that all that with cold calling!
But isn't it expensive?
It can be. Trade show fees vary tremendously and there are lots of potential upsells for additional services.
Scope out relevant trade shows by checking their web sites and visiting if you can. Ask people who have previously exhibited. Many trade shows allow you to visit for free. Planning in advance enables you to target the shows most likely to be of benefit, ensure you pay the early bird fees, and shop around for good deals on marketing items.
Trade shows will have a variety of booths sizes and some have small booths reserved for small businesses. We booked one of these for the HRPA 2017 trade show in Toronto and it was very affordable. The 10'x5' booth came carpeted, with table and chairs and electricity. Often these are extra and can be expensive to hire.
And all that swag and leaflets … more money!
Yes, you will probably need a pull up banner and leaflets/flyers. Good quality pull up banners are just under a couple of hundred dollars — look out for special offers and you could get a bargain! Leaflets/flyers may not be as expensive as you think if you shop around. A 'powerpoint' style presentation running on a computer can be a good focal point and doesn't cost anything, but time. A banner to hang up behind you can really attract people. Our 6'x2' hanging banner simply says 'turalt — the technology of empathy' and intrigued many people from a distance to come over and chat. Remember that many of these materials will be re-used at multiple trade shows.
Turalt recommended:
4imprint: Banners, displays, table covers, etc.
Zoom printing: Good range of printed materials in differing sizes. Fast turnaround.
Vistaprint: Can be very cost effective for printed materials. We got great stickers to give to people who tried out our app.
We are not graphic designers
Neither are we! It's daunting designing leaflets and banners, etc. If you are scouting out potential trade shows ahead of time, pick up a variety of leaflets so you can check out what works and what doesn't. You could pull in a few favours from friends to help you with the design. You can also crowd source some, or all, of the design. Below are a few graphic design marketplaces. These can be very cost effective, though you do need to cast a very critical eye over designs.
Turalt recommended:
Fiverr: Almost no end to the weird and wonderful things that people from around the globe will do. Lots of people doing graphic design, explainer videos, etc.
DesignCrowd: If you need something designed, draw up a very clear brief and use this marketplace.
99designs: Similar to DesignCrowd and used by a small company we know to design their logo.
What do I say to people?
Don't babble at people that you are the 'Uber for X' or keep repeating your value proposition or elevator pitch at them. Don't talk at them. They are potential customers, not investors, and you are not at a pitching competition. They are real customers who want to have a conversation with you about your product. Have a few interesting conversation openers and adapt according to what seems to work. Modify this according to their reactions and questions. Don't have too fixed a view of what you will say else you will sound like a boring cold calling person or worse, a high pressure salesperson.
You could look at their name badge and say, "Hi Chris, how did you enjoy the morning keynote session?", Hi Chris — would you like to find out more about our [insert something intriguing here about your product]?
You will find what works for your particular crowd. Resist the urge to completely block them from moving to the next booth, and never grab them and beg them to stay and talk to you about your product while offering them a 99% discount.
What else should I know about?
Furniture. Often you have to provide table and chairs. If you are local then you can buy cheap, fold up tables and chairs at a home improvement store and cover with a large piece of plain fabric. That's what we have previously done. Renting items of furniture from the show's suppliers is expensive.
Electricity and internet. This can be extra and expensive. We have got by on battery packs and hotspotting our phones to save money.
Lead retrieval. Rent it. Why? What is it? Seriously, just get the early bird discount and rent this. This gadget enables you to scan people's badges and at the end of the trade show their contact details are sent to you in a spreadsheet. There are app versions that have more features, but they cost more. A basic spreadsheet of contact details is good enough.
People often don't have business cards and can also be a bit reluctant to sign up via, for example, an iPad. Electronic sign up takes time away from valuable talking time with your customers.
A prize draw. You can have a prize draw for a gift or some of your services. Beware of gambling laws. There are complex legal issues regarding the gambling status of draws and big fines if you get it wrong.
Swag. You will need some unless you are giving away free samples of your wares. Always have lots of individually wrapped chocolates. They are cheap and always appreciated. Bulk Barn in Canada is awesome for getting choccies! You will also need them to get through the day — sugar and caffeine fuel exhibitors and attendees.
Try and be different with your swag. Pens are cheap, but boring. Stress balls are getting passé, but might be a good lure to your booth if you can juggle. Check out online catalogues for offers. We have given away stress balls, cell phone holders and always have chocolate. Look out for sale items or closeouts. Think about how you can lure attendees to your booth with your swag. "Do you want another cheap pen that may or may not work?", is not a great persuading opening line.
Beware of professional swag hunters who swoop in flocks and grab your swag, but don't engage with you. Pounce on them as they pick up your swag and say they can have it in exchange for being added to your list. At least you will have them on your list.
Swag goes faster the more you have on the table. People are reluctant to take swag if there are only a few on the table, so if your swag is being grabbed too fast, put out less. Pace your swag!
Turalt recommended swag places:
4imprint: Huge range of swag and trade show items. Easy to use site and excellent customer service. You can get a sample of items before you buy.
Vistaprint: Vistaprint have swag, but also have a range of one-off customized items, so you can get a couple of t-shirts or backpacks printed for a reasonable price.
Bluetrack: An infinite range of stress balls to choose from.
The final word  – LISTEN
The people at trade shows are your customers. Their feedback will help you sell your product, pivot, develop new products, open your mind to new market segments, develop new partnerships, and so on.
Good luck and please let us know how you get on  –  I'd love to hear your trade show stories and whether this article was useful: chris.mckillop@turalt.com
---
Dr. Chris McKillop is CEO of turalt, a Toronto-based AI company using the 'technology of empathy' to empower workplace communications.